University
Event
Upcoming Events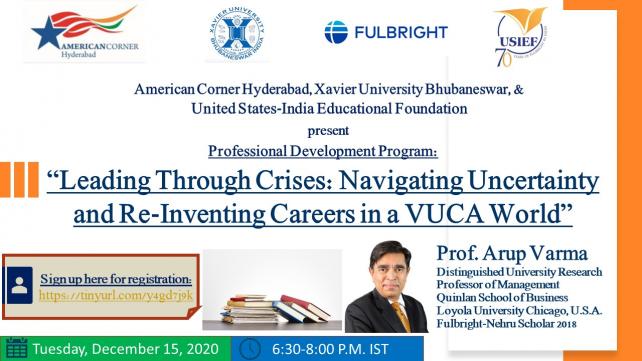 Professional Development Program for students, scholars, and professionals from business-related fields organized by American Corner Hyderabad
---
---
---
Event Description
---
Respected Scholars and Administrators,
Greetings from United States-India Educational Foundation (USIEF) – the Fulbright Commission in India located at the U.S. Consulate General Hyderabad! 
We are pleased to inform you that American Corner Hyderabad, United States-India Educational Foundation (the Fulbright Commission in India), and Xavier University Bhubaneswar are jointly organizing a professional development program for students, scholars, and professionals from business-related fields: 
"Leading Through Crises: Navigating Uncertainty and Reinventing Careers in a VUCA (Volatile, Uncertain, Complex, and Ambiguous) World."
Date: Tuesday, December 15  
Time: 6:30-8:00 p.m. 
The program will feature Prof. Arup Varma, Distinguished University Research Professor of Management, Quinlan School of Business, Loyola University Chicago (Illinois), U.S.A. and also Fulbright-Nehru alumnus 2018. 
During the webinar, Prof. Varma will talk about the challenges faced by global corporations in a VUCA world, how organizations are remodeling themselves in these circumstances, and what should students and young professionals do in the midst of these challenging times to reinvent their careers.  
The program will be held online and registrations for participation are being accepted at: https://tinyurl.com/SpeakerSeriesDec15 
Request you to please share the blurb for the session below along with the attached flyer with students, young scholars, and alumni at your institution. 
---