University
Centres
Head: Prof. Tahseen Bilgrami , Director (Incharge)
EMail(s): hrdcmanuu[at]manuu[dot]ac[dot]in
Phone Number(s):
phone: Phone & Fax : 040—23008312/13/23008325
---
The University Grants Commission has sanctioned a UGC Academic Staff College to Maulana Azad National Urdu University in January 2007. The UGC-ASC was inaugurated by Prof. Moolchand Sharma, Vice-Chairperson, University Grants Commission on 24th March 2007.
The UGC Academic Staff College, Maulana Azad National Urdu University started its mission in March 2007 and has devoted itself to training and professional development of College and University teachers, Principals and Academic Administrators, non teaching staff and also research scholars. The ASC is renamed as Human Resource Development Centre in February 2015. This HRDC, MANUU has served as the meeting ground for teachers and intellectuals belonging to diverse disciplines and to make them better human beings with an updated knowledge and skills in their specialized subjects, competent enough to face global challenges in Higher Education.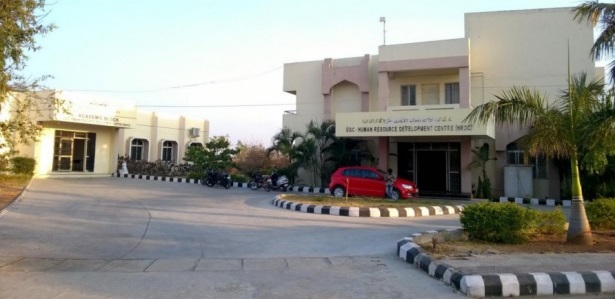 The mission of HRDC, MANUU is to improve the status of the teachers and to provide opportunity for professional and career development to fulfill their role and responsibility within the system of higher education and thereby inculcate in them the right kind of values that would in turn encourage them to take initiatives for innovative and creative work. Keeping the above objectives in view; HRDC, MANUU is continuously making consistent effort to achieve its mission by offering diversified programmes and through that to enhance the teaching capabilities of participants. The HRDC MANUU has planned its programmes to incorporate all the components prescribed by the UGC and many other aspects relevant to its vision and mission.
The UGC HRDC MANUU is organizing Orientation Programmes, Refresher Courses and Professional Development Programmes for Educational administrators, Principals, and teaching and Non-teaching staff.
The Orientation programme is intended to inculcate in the young lecturers the quality of self- reliance through awareness of the social, intellectual and moral environment as well as to discover self-potential and confidence. The orientation programmes contributes to the teacher awareness of the problems of the Indian society and the role of education, higher education leaders and educators in the resolution of these problems to achieve desired goals in national development.
The Refresher course provides opportunities for serving teachers to exchange experiences with their peers and mutually learns from each other. It will be a forum to abreast of the latest advances in the Subjects,technological spin off etc.
In addition to the above programmes, ASCs also organize summer schools, winter schools, interaction programme for research scholars, meeting of college principals, academic administrators (Heads and Deans), short term staff development programme for non-teaching staff in higher education sector. Thus addressing staff training issues of all the stakeholders in Higher Education.