University
Upcoming Events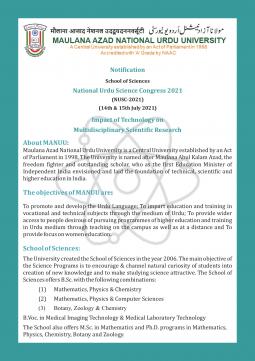 National Urdu Science Congress - 2021 (Online) - July 14th-15th, 2021. Impact of Technology on Multidisciplinary Scientific Research
---
---
---
Event Description
---
About MANUU: Maulana Azad National Urdu University is a Central University established by an Act of Parliament in 1998. The University is named after Maulana Abul Kalam Azad, the freedom fighter and outstanding scholar, who as the first Education Minister of Independent India envisioned and laid the foundation of technical, scientific and higher education in India.
The objectives of MANUU are: To promote and develop the Urdu Language; To impart education and training in vocational and technical subjects through the medium of Urdu; To provide wider access to people desirous of pursuing programmes of higher education and training in Urdu medium through teaching on the campus as well as at a distance and To provide focus on women education.
School of Sciences:
The University created the School of Sciences in the year 2006. The main objective of the Science Programs is to encourage & channel natural curiosity of students into creation of new knowledge and to make studying science attractive. The School of Sciences offers B.Sc. with the following combinations:
Mathematics, Physics & Chemistry

Mathematics, Physics & Computer Sciences

Botany, Zoology & Chemistry
B.Voc. in Medical Imaging Technology & Medical Laboratory Technology
The School also offers M.Sc. in Mathematics and Ph.D. programs in Mathematics, Physics, Chemistry, Botany and Zoology.
Purpose of the Congress:
To create a platform to discuss, deliberate and promote the cause of science in Urdu language.

To bring together scientists and science communicators to discuss the Impact of Technology on Multidisciplinary Scientific Research.

To identify and nurture scientific talent amongst students and young researchers.

To inculcate scientific temper at grass root level.
Abstracts are invited on the broader area of
Sub Themes:
Health Sciences                                2.     Agricultural Sciences
Environmental Sciences                  4.     Pure and Applied Chemistry

Pure and Applied Physics               5.    

Pure and Applied Mathematics

ICT in Sciences                                 6.     Communicating Sciences
Registration:
A structured abstract of not more than 300 words in Urdu (preferably both as a word file and in pdf format) should be sent to nusc2021.manuu@gmail.com  by 25th June 2021.
Information of acceptance will be communicated by 30th June, 2021.
Full-length papers submitted, after refereeing, will be published in the proceedings of the congress.
Research Scholars and students will be eligible for the award of best paper if they submit the full-length paper on or before 30th June, 2021.
e-Certificate of Participation will be given to all the registered participants.
Organizing Committee:
Chief Patron:              Prof. S.M. Rahmathullah, Vice-Chancellor (I/c)
Patron:                          Prof. Siddiqui Mohd. Mahmood, Registrar (I/c)
Chairperson:              Prof. Parveen Jahan, Dean, School of Sciences, MANUU
Convener:                    Prof. Syed Najamul Hasan,Department of Mathematics, MANUU
Co-Conveners:           Prof. Salman  Ahmad Khan, Dr.S.Maqbool Ahmed, Dr.H.Aleem Basha, Dr.Afroz, Dr.Syed Salahuddin
Members:
Dr. Khaja Moinuddin, Dr. Ira Khan, Dr. Rizwanul Haq Ansari, Dr. Masroor Fatima, Dr. Qasimullah, Dr. Subhash Alha, Dr. Priya Hasan, Dr. Merajul Islam Robab, Dr. Arif Ahmad, Dr. Majid Ali Choudhary, Dr. Alimuddin, Dr. Syed Waseem Raja, Dr. Zeenat Fatima, Dr. Syed Sayeeduddin, Dr. Aziz ur Rahman Khan, Dr. Kashif Khan, Mr. Zia ur Rahman, Dr. Asif Ahmed  & Non-Teaching Staff of SoS.
---