University
Upcoming Events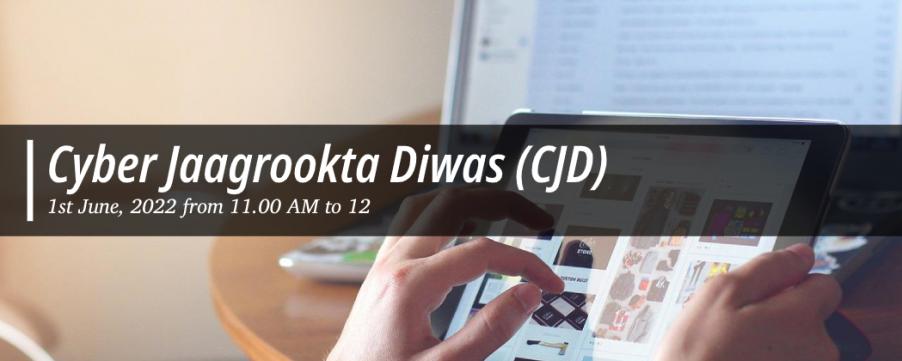 Cyber Jaagrookta Diwas (CJD)
---
---
---
Event Description
---
I am directed to inform that the next session on Cyber Jaagrookta Diwas (CJD) is being conducted on 1st June, 2022 from 11.00 AM to 12 Noon. 
2. Six (6) Parallel Sessions are being organized on 1st June, 2022, for which six (6) speakers (as mentioned in Table in Para 3 below) have been nominated. All Sessions will cover all CUs, IITs, IIITs, IIMs, IISERs, SPAs & NITs. The following six (6) Officers have been nominated as Moderators for each Parallel Sessions:
Parallel Session 1 : Mohd. Rizwan, MoE
Parallel Session 2 : Shri Syed Ekram Rizwi, Joint Secretary (S&S), MoE
Parallel Session 3 : Shri Saba Akhtar, Scientist-F (NIC), MoE
Parallel Session 4 : Shri Vishwajeet Kumar, Director (CU), MoE
Parallel Session 5 : Mrs Shalia Shah, Deputy Secretary (ICC), MoE
Parallel Session 6 : Md. Anwar Khan, Sr. Technical Director, MoE
3. Please see the details regarding Topic, Sessions, Moderators and Speakers, as under for taking necessary action.
Cyber Jaagrookta Diwas (CJD) on 1st June 2022 ( 11 AM -12 PM)

Session

Audience from Institutions

Speaker

1

CU (A-M) + UGC+AICTE

Dr. Abhijan Chakraborti,
Assistant Professor

Dept of Computer Science & Engineering , IIT Delhi

2

IIIT (25)

Dr. Debasis Das,

Assistant Professor

Department of Computer Science and Engineering,

IIT Jodhpur

3

IIT (23)

Prof. Bernard Menezes

Department of Computer Science & Engineering Indian Institute of Technology, Mumbai

4

IIM (20)

Prof. M P Gupta

Indian Institute of Technology, Delhi

5

CU (N-Z), IISER (8), SPA (3)

Dr. Harshan Jagadeesh

Assistant Professor

Department of Electrical Engineering

IIT Delhi

6

NIT (32)

Dr. Sharad Sinha,
Assoc. Professor, School of Mathematics and Science,

IIT Goa

Topics to be covered under the session :

Concept and use of Cyber Hygiene in daily life

 

• Browser Security, Desktop security, UPI Security, Juice Jacking, Google Map Security, OTP fraud

• IOT Security, Wi-Fi Security, Spotting fake apps on Social media and Internet (fake email messages, fake post, fake whatsapp messages, fake customer care/toll free numbers, fake jobs)

• Internet ethics, internet addiction, ATM scams, online shopping threats, lottery emails/SMS, loan frauds,

• How to avoid Social Engineering Attacks, debit/credit card fraud, e-mail security, mobile phone security, mobile apps security, USB storage device security, data security

• Mobile connectivity security attacks (Bluetooth, Wi-Fi), mobile as USB, broadband internet security

• Preventive measures to be taken in cyber space, reporting of cyber crime
---